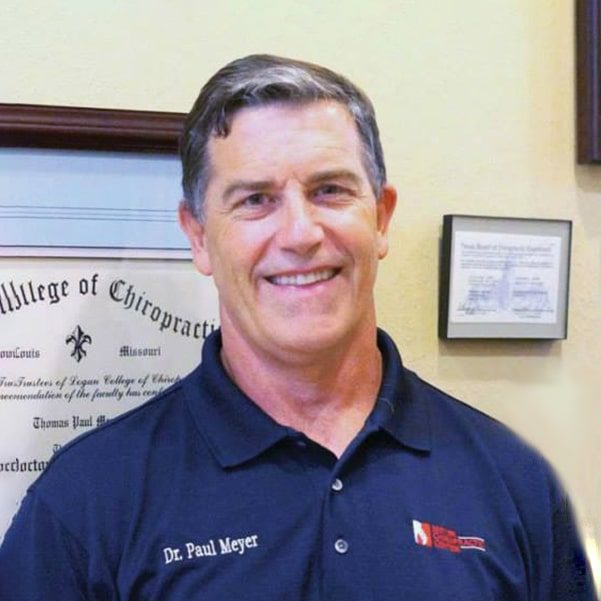 Chiropractor Paul Meyer D.C.
Dr. Paul Meyer opened the Meyer Chiropractic Center in 1985 on South Cooper Street in Arlington, Texas. Back then, South Cooper was a two lane highway and the Park's Mall was just a bill board saying "Coming Soon". Since that time, Meyer Chiropractic Center has grown to be a great resource for spinal disc conditions. Patients from the surrounding area and as far away as Florida seek their expertise and knowledge.
Background
Many years ago when I was a young chiropractor, I wanted to be the best. I took courses, studied the research and became experienced in treating spinal disc conditions. Today that thirst for knowledge continues. Each year, I attend educational conferences and seminars well above the minimal requirement of the State Board of Texas.
Chiropractor Whitney Fogle D.C.
Dr. Whitney Fogle is a native to the DFW metroplex growing up in Cedar Hill and graduating high school from Cedar Hill High School. She is certified by the National Board of Chiropractic Examiners and licensed in the state of Texas as a Doctor of Chiropractic. She received her Bachelors of Science degree in Biology with a minor in Chemistry from Texas Tech University in Lubbock, TX in 2003. It was her junior year in college she fell in love with the healing power of chiropractic.
Dr. Fogle's sister, Samantha, was injured in a cheer incident when she was a 15 year old competitive cheerleader. To this day, Samantha claims that chiropractic saved her from pain and the depression that comes along with that when there seems to be no answers or relief. After Dr. Fogle saw this amazing result with what chiropractic can do to change people's lives, she knew that is the profession she wanted to pursue.
---
Background
Dr. Fogle began her journey to becoming a chiropractor in 2003 at Parker College of Chiropractic and received her Doctorate of Chiropractic degree in 2006. The joy of going to work and being able better the quality of life for entire families through the power of a chiropractic adjustment is what Dr. Fogle enjoys the most. She strives to be the practitioner that takes the extra step to listen to a patient's concerns in order to figure out the best plan of action to get them back to doing the things they enjoy, no matter if that is running a 100 mile race or just sitting and enjoying a movie without pain. She treats an array of patients from pregnant moms and newborn spine checks, to herniated discs and chronic pain in the spine and many others in between. Dr. Fogle lives in Midlothian with her soccer coach husband Nick, her spunky little girl Harper, two dogs and an old cat. She would love to get the opportunity to help you and your family members lead a healthier life to enjoy each day to the fullest.
OFFICE HOURS
---
Monday
8:00am - 6:00pm

---
Tuesday
8:00am - 6:00pm
---
Wednesday
8:00am - 6:00pm
---
Thursday
8:00am - 6:00pm
---
Friday
8:00am - 12:00pm
---
Saturday
Closed